Wonderlotus - Hot Yoga Towel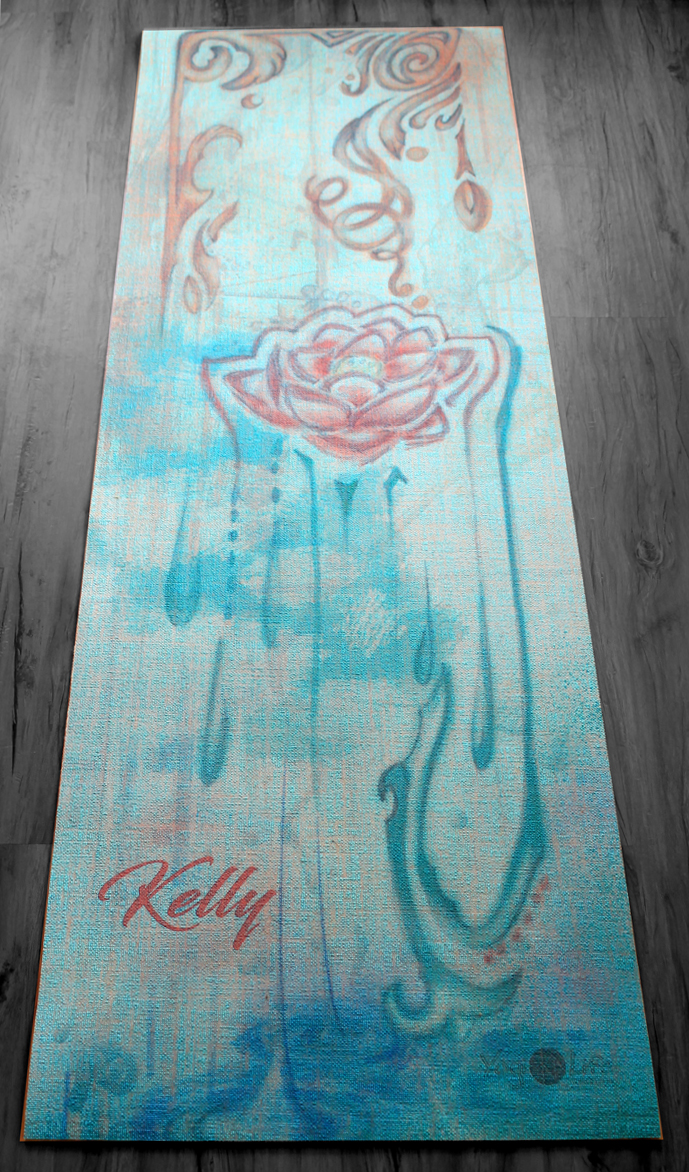 Wonderlotus - Hot Yoga Towel
Feel the Aum as you open like a lotus during practice on this yoga mat.
Designer printed hot yoga towel & yoga mat.
Besides being eco-friendly and non-toxic, this towel is THE BEST in performance for hot yoga.
+Durable
+Biodegradable: natural rubber base & water-based inks
+Non-Toxic: natural rubber, water based inks plus free of toxic adhesives
+Eco-friendly
+High Quality: no bunching Soft micro-fiber top that
+High Absorbancy: Activated grip with liquid
+Machine Washable
+Use alone or with a mat
...ABOUT OUR MATS...
Eka YogiLife brand products are made with intention. Eka, meaning one, embodies our practice as yogis seeking a life of meaning, compassion, unity and oneness with the universe. The Eka YogiLife brand is for all yogis - new and seasoned, seeking through the practice of yoga meditation.
Functional and Beautiful:
Custom designer printed yoga mat. Full color limited edition art print on a yoga mat! Our unique print process allows us to capture the full breadth of the color spectrum while maintaining functionality!
What we've produced is a mat that functions better than other designer printed brands and is more beautiful than any leading yoga mat on the market. The Eka YogiLife mission is to make the world a more beautiful place, one yoga mat at a time.
This is not a screen-print process! Why is this important? Our print process ensures that the application of the graphic to the mat will not impede on functionality (ie there is no increased slippage, no worry about the ink chipping/pealing or flaking off).
…WHY CHOOSE Eka YogiLife…
Colors are truly healing, every color that we can see (and even the colors that we cannot) emits its own wavelength. Wavelengths are essentially energy vibrations, so on a very real level, color does resonate with energies within our bodies, specifically the chakra centers. When we couple color with a balanced design, I feel a well thought-out design full color printed yoga mat, like Eka YogiLife brands, can enhance inner energies within the body. I strive to keep my designs simple yet compelling.
I believe that practicing on an Eka YogiLife designer yoga mat and choosing a design that speaks to the inner self, will resonate with each of us during practice and enhance the vibrations of our beings, as color and art therapy do.
...AVAILABLE MAT-TYPES...
All of our mats are eco-friendly sustainably produced, free of toxic phthalates and heavy metals.
▪ EkaTowel - Soft fiber top with rubber backing for firm grip and absorbency. Fold-able and lightweight. Dampen with water for firm grip. Machine Washable. CONTAINS LATEX
▪ EkaTraveler - Lightweight for travel, firm anti-slip fiber with rubber backing for firm grip and absorbency. Machine Washable. CONTAINS LATEX
…DIMENSIONS…
Extra long…
24" wide x 72" long
… CUSTOM ORDERS…
Please contact us for custom yoga towel orders.
Great yoga gift for birthday, graduation, certification completion, yoga training completion, bar mitzvah, bat mitzvah, anniversary, Christmas, Hanukkah, back to school, wedding, retirement.
We offer personalization and customization that make exceptional gifts!